Ethical and cultural values are amongst the most important assets that we can preserve and pass along to the next generation. It is only with "Unity and Communication" that we can grow and develop our Samaj to ensure elder and younger generation will be spiritually and culturally enlightened to face the challenges of the future.
Matiya World, Inc. is awarding scholarship(s) to first year Students entering a College, University or Trade School straight out of High School, Fall of 2017. All Application packages must be received by Matiya World, Inc., no later than Friday, June 16th, 2017. Recipients will be announced end of July 2017. Complete details and instructions can be found on the application. Please forward any questions or concerns by email to scholarship@matiyaworld.com
2017 MW Scholarship Application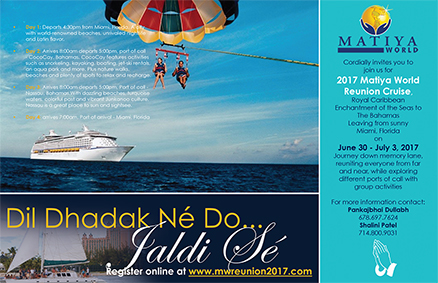 For more details please visit: http://www.mwreunion2017.com/

Our Sincere Thank You to all our Sponsors!
View Sponsor List...