Welcome to Maitya 30± Group!
Our Mission: Make a difference with our heart!
Our Goal: To bring adults connect, unite & build for endless possibility…
Upcoming Events:
Morro Bay Volunteer/Vacation Trip - May 2nd, 2014 - May 4th, 2014
View event details | Registraiton Form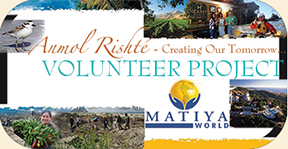 Tentative Next Steps:
Planning a Get-a-way with a cause! This trip we want to create memories and bonds. Our plan is to take a few days off, go somewhere local or exotic, and do something worthwhile. Let's all work together at a volunteer sight while still catching some of the touristy traps, you won't be disappointed. We are in process of setting couple of dates that we would like your input on in order for us to make this event a reality.


Relationships, bonds , reaching hands……we are all so fortunate to have people in our Matiya Community to lean on and to reach out to. Together we would like to make this possible for those outside of our community as well. We plan on hosting a Walk-A-Thon nationwide and donating to a meaningful charity with your support.


Way to a person's heart is thru their stomach…..that's what we've been told; that inspired us to come up with our Recipe Corner "Khana Tijori". Please send in your favorite tried out scrumptious recipes, we will be creating a beautiful recipe book and once a month we will feature someone in our community who is well know for a particular food and showcase their recipe. If you have someone special in mind please send us their contact information so we can share their talent. Our goal is to have this recipe book available to all during our Next Convention.
Our members input & guidance are most welcome in achieving this goal. For suggestions, questions or concerns, please contact: Bharti Lalabhai: bharti.lalabhai@gmail.com or Anju Patel: anju111@aol.com.

We will keep you updated with latest progress as more details are finalized...