Diwali is also known as Deepawali, or the Festival of Lights. Light is significant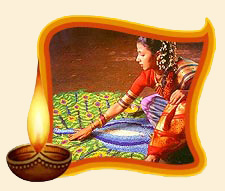 in Hinduism because it signifies goodness. So, during the Festival of Lights, 'deeps', or oil lamps, are burned throughout the day and into the night to ward off darkness and evil. Homes are filled with these oil lamps, candles and lights. Diwali is celebrated on the last day of the last month of lunar calendar. This year it begins on October 21st and ends on October 25th. This weeklong festival is a tradition in every Hindu household around the world. It is the beginning of the New Year (2051), a start to a new fiscal year and a brand new beginning for all. Diwali is celebrated for five days, each day having it's own significance and ritual. Many legends and myths are also attached to each day. Each region of India celebrates Diwali in it's own unique way.

In northern India, especially in places like the Punjab, Diwali is dedicated to the worship of Lord Rama, who had been exiled from his empire, India, for 14 years. During that time Lord Rama fought and won tenuous struggles in the south part of the Indian sub-continent (what is now Sri Lanka). Diwali marks his victorious return to his kingdom. While in Bengal, Kali/Durga, the goddess of strength, is worshipped. This reverence is called "Kali Chaudas or Kal Chaturdasi". Strength is a positive attribute for one to have but it must be used to protect others from harm and used only in good and pure deeds. Also during Diwali, the goddess of wealth, Lord Lakshmi is worshipped. This practice is called "Dhanteras". It is believed that he or she who worships Lord Lakshmi during Diwali is bestowed wealth and prosperity.
In Hindu society and culture, wealth is seen as a positive notion. It is not a corruptive contrivance used to harm others. What is corrupt is one's attitude towards wealth. Wealth equals power and power is good, as long as it does not harm another living creature. Wealth should be used in pure and good activities, not leading anyone down a path of destruction. Another practice during Diwali is "Bhai Dooj" or "Bhai Beej". On this day, women are given gifts from their brothers and held in the highest respect. The myth behind this begins when Bhagawaan Mahavir found nirvana, his brother Raja Nandivardhan was distressed because he missed him and was comforted by his sister Sudarshana. Since then, women have been revered during this festival.

Each of the five days in the festival of Diwali is marked with a significant worship or 'puja' of a certain deity that differs throughout India. Each is also separated by a different tradition. But what remains the same throughout is that this day is a celebration of life, joy and goodness. From darkness we enter into light, and light empowers us to do good deeds and bring us closer to divinity.

The word "Diwali" is the corruption of the Sanskrit word "Deepavali" - Deepa meaning light and Avali, meaning a row. It means a row of lights and indeed illumination forms its main attraction. Every home - lowly or mightly - the hut of the poor or the mansion of the rich - is alit with the orange glow of twinkling diyas-small earthen lamps - to welcome Lakshmi, Goddess of wealth and prosperity. Multi-coloured Rangoli designs, floral decorations and fireworks lend picturesness and grandeur to this festival which heralds joy, mirth and happiness in the ensuring year.

Diwali is the festival of Laxmi, the Goddess of prosperity and wealth. It is believed that Goddess Laxmi visit everyone during Diwali and brings peace and prosperity to all. On the night of diwali "Lakshmi-Pujan" is performed in the evenings. A traditional Puja is performed after sunset in all the homes. Five pieces of ghee diyas (lamps) are lit in front of the deities, Naivedya of traditional sweets is offered to the Goddess and devotional songs- in praise of Goddess Laxmi are sung.

After the Puja people light diyas (lamps) in their homes to usher in light, and clear the darkness from the world. In villages cattle's are adorned and worshipped by farmers as they form the main source of their income. In south cows are offered special veneration as they are supposed to be the incarnation of Goddess Lakshmi and therefore they are adorned and worshipped on this day .

Step By Step Diwali Puja: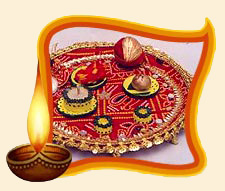 First clean the Puja room and then Bathe each Deity ( Lakshmi & Ganesh) first with water, then with panchamitra/or rose water, followed by water once more.
Make a Panchamitra with 5 ingredients of milk, curd, ghee(clarified butter), sugar & Honey.

Place Few mithais, snacks & fruits as a prashad.
Make offerings of flowers, abir (red colour), sindoor (vermillion), haldi (turmeric). and Light the Agarbatti (incense sticks) and lamps filled with Ghee.
Now make offerings of fruit, sweet meat ( mithai), Salty snacks ( Mathis, Ghathia, Namakpare) and offer dakshina (token money), which could be given to the poor.
In the end offer paan (betel leaves), cloves. Now pray to the dieties to seek their blessings.

Ganesh Puja-Ganeshji are a must for Diwali pujan. (Ganeshji is to be worshipped in all pujas before any other god or goddess.) (Aarti)

Laxmi Puja : Place Lotus and other flowers at her feet as an offering. A silver coin is placed in front of the Goddess during the puja. Now perform Arti with flowers in hand. (Aarti)
After the puja have the Prashad and go out to burst crackers.

Diwali Rituals

Diwali or more aptly Deepavali is very enthusiastically celebrated for five continuous days and each day has its significance with a number of myths, legends and beliefs.

First Day : DHANTERAS or DHANTRAYODASHI.
It is the thirteenth day of the month of Ashwin. The word "Dhan" means wealth. As such this day of the five-day Diwali festival has a great importance for the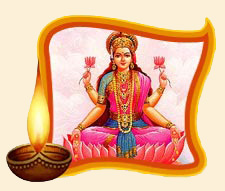 rich mercantile community of Western India. Houses and Business premises are renovated and decorated. Entrances are made colourful with lovely traditional motifs of Rangoli designs to welcome the Goddess of wealth and prosperity. To indicate her long-awaited arrival, small footprints are drawn with rice flour and vermilion powder all over the houses. Lamps are kept burning all through the nights. Believing this day to be auspicious women purchase some gold or silver or at least one or two new utensils. "Lakshmi-Puja" is performed in the evenings when tiny diyas of clay are lighted to drive away the shadows of evil spirits. "Bhajans"-devotional songs- in praise of Goddess Laxmi are sung and "Naivedya" of traditional sweets is offered to the Goddess. There is a peculiar custom in Maharashtra to lightly pound dry coriander seeds with jaggery and offer as Naivedya. In villages cattles are adorned and worshipped by farmers as they form the main source of their income. In south cows are offered special veneration as they are supposed to be the incarnation of Goddess Lakshmi and therefore they are adorned and worshipped on this day.

A very interesting story about this day is of the sixteen year old son of King Hima. As per his horoscope he was doomed to die by a snake-bite on the fourth day of his marriage. On that particular fourth day of his marriage his young wife did not allow him to sleep. She laid all the ornaments and lots of gold and silver coins in a big heap at the entrance of her husband's boudoir and lighted innumerable lamps all over the place. And she went on telling stories and singing songs. When Yam, the god of Death arrived there in the guise of a Serpent his eyes got blinded by that dazzle of those brilliant lights and he could not enter the Prince's chamber. So he climbed on top of the heap of the ornaments and coins and sat there whole night listening to the melodious songs. In the morning he quietly went away. Thus the young wife saved her husband from the clutches of death. Since then this day of Dhanteras came to be known as the day of "YAMADEEPDAAN" and lamps are kept burning throughout the night in reverential adoration to Yam, the god of Death.

The SECOND day is called NARAK-CHATURDASHI or CHOTI DIWALI.
IT is about 'Narakasur Vadh' (killing of the demon Narakasur), and is held on the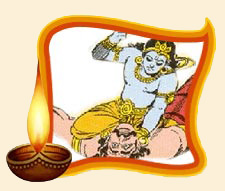 fourteenth day of the month of Aashwin. The story goes that the demon king Narakasur ruler of Pragjyotishpur ( a province to the South of Nepal) after defeating Lord Indra had snatched away the magnificent earrings of Aditi, the Mother Goddess and imprisoned sixteen thousand daughters of the gods and saints in his harem. On the day previous to Narakachaturdashi, Lord Krishna killed the demon and liberated the imprisoned damsels and also recovered those precious earrings of Aditi. As a symbol of that victory Lord Krishna smeared his forehead with the demon king's blood. Krishna returned home in the very early morning of the Narakachaturdashi day. The womenfolk massaged scented oil to his body and gave him a good bath to wash away the filth from his body. Since then the custom of taking bath before sunrise on this day has become a traditional practice specially in Maharashtra. In South India that victory of the divine over the mundane is celebrated in a very peculiar way. People wake up before sunrise prepare blood by mixing Kumkum in oil and after breaking a bitter fruit that represents the head of the demon King that was smashed by Krishna, apply that mixture on their foreheads. Then they have an oil bath using sandalwood paste.

In Maharashtra also, traditional early baths with oil and "Uptan" (paste) of gram flour and fragrant powders are a `must'. All through the ritual of baths, deafening sounds of crackers and fireworks are there in order that the children enjoy bathing. Afterwards steamed vermiceli with milk and sugar or puffed rice with curd is served.

The THIRD day : Diwali
On the dark new moon night, the entrances to all homes are lit up and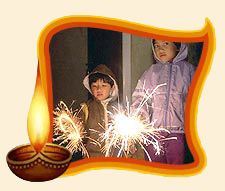 decorated with rangoli patterns to welcome Lakshmi, the radiant consort of Vishnu and the goddess of wealth and lustre. Lakshmi Puja is performed on this day. Diwali is the last day of financial year in traditional Hindu business and businessmen perform Chopda Pujan on this day on the new books of accounts. The day ends with a mega cracker bursting sessions. For 5-6 hours, every family burns fire crackers worth thousands of ruppees. Poplular fire crackers are sparkling pots, bombs, rockets etc.

The FOURTH day : New Year day or Bestavarsh
The day after the Lakshmi Puja, most families celebrate the new year by dressing in new clothes, wearing jewellery and visiting family members and business colleagues to give them sweets, dry fruits and gifts. Among the business communities of Gujarat, Rajasthan, Madhya Pradesh and Maharashtra, Diwali is the festival when the new business year begins. All business establishments and families perform muharat pujan or veneration of their books. Stock brokers do mahurat trading or symbolic auspicious business deals to i iwali : Time to shop or start new ventures } Diwali, one of the longest festivals in the Hindu year, is a time when everything in India comes to a standstill except family life, feasting and shopping. Diwali is considered auspicious for shopping, inaugurations of new homes, business deals or for starting any new ventures and projects.

The Fifth day of Diwali : Bhai Dhooj
The second day of the bright forthnight (Shukla Paksh) of Kartik is called "Bhaiya-Duj". It comes once a year - after Diwali. The name itself denotes the day of the festival i.e.Diwali falls on the absolutely dark night of Amavasya (new moon), Dooj comes two days after Diwali. Many years ago, in the Vedic era, Yama (Yamraj, the Lord of death) visited His sister Yamuna(Yami) and she put the auspicious tilak on his forehead, they ate talked and enjoyed together and exchanged special gifts as a token of their love for each other and Yamraj announced that anyone who receives tilak from his sister on this day will never be thrown. Since then it became imperative for the brother to go to his sister's house to celebrate Bhaiyaduj.On Bhai Dooj, the teeka is applied on the brother's forehead. It is a day dedicated to sisters. We have heard about Raksha Bandhan (brothers day). Well this is sisters day. The sister usually goes in the morning and does the puja in the mother's house, before the brothers leave for their places of study or work.
Diwali Delicacies

Gram Dhal Vada :

Ingredients :
Gram dhal - 2 cups (channa dhal)
Coriander leaves - 1/4 cups
Salt - 3/4 cups
Curry leaves - little
Red chillies - 4
Green chillies - 3
Ginger - 1 cm
Onion - 2

Method:
Soak gram dhal in water for 2 hours. Wash with water and drain off water. Chop onion, gren chillies, curry leaves and coriander leaves. Grind the dhal coarsely with red chillies. Add all the other ingredients - make into wadas, deep fry in oil till golden in colour. Can be served hot or cold - very tasty with dahi-bath.


Chilled Curds Idlis :

Ingredients :
Chilled curds - 4 cups
Idlis - 24
Carrots - 1 cup
Oil - 1 1/2 tabs
Coriander leaves- 1 tabs
Mustard - 1/4 tsp
Salt - 1/2 tsp
Hing Powder - pinch
Dried curds chilli- 4
(mor milagai)

Method:
Make idlis and let it get cold. Beat curds adding a cup of water, add salt to it. If preferred 1/2 tsp of sugar can be added. Grate carrots and chop coriander leaves. Heat 1/2 tabs oil, add mustard. When mustard splutters add hing, pour on to the curds. Keep half the curds mixture aside. Soak the idlis in the other half of the curd mixture and keep both in the fridge to chill well.

To serve break the dried curds chilli into little pieces. Fry them in the remaining oil till brown. Place the soaked idlis in an attractive platter, cover them with the remaining curd mixture - scatter the fried chillies over them, and decorate with grated carrots and coriander leaves. This is refreshing in hot weather.


Royal Vermicilli Kheer :

Ingredients :
Vermicilli - 1/2 cup (thin variety)
Milk - 4 cups
Sugar - 1/2 - 3/4 cup
Cream - 1/4 cup
Ghee - 4 tabs
Almonds - 2 tabs
Cinnamon powder - 1 level tsp
Bananas - 3 (small)

Method:
Fry vermicilli in 2 tabs of ghee,till light gold in colour.let it gets cold.Skin almonds-chop them into small pieces.Fry in 2 tabs of ghee,tillwell toasted.

Boil the milk,add the vermicilli and keep on stirring over low heat tillthe vermicilli is just cooked and the milk is thick.(Do not over cook the vermicilli).Reduce heat and add sugar little by little-stirring all the time till the sugar dissolves.

Remove from heat,when cold,mix in the cream,almonds,cinnamon powder and chopped bananas.Serve chilled with a little silver varg on top for decoration.


Besan Ka Ladoo :

Ingredients :
Ghee - 225 gms Besan - 225 gms Castor sugar - 350 gms Cashewnuts chopped - 1 tsp
Almonds chopped - 1 tsp Pistachio - 1 tsp

Method:
Place the ghee and besan in a pan over a low heat. Keep stirring the mixture to avoid the formation of lumps. When the mixture is cooked, it will release an aromatic flavour. Remove the pan from the heat and let it cool. Add the sugar and chopped cashewnuts to the besan mixture and stir in thoroughly. Now mould small balls of appropriate size, from the mixture Serve hot or cold


Carrot Halwa :

Ingredients :
Carrots -1/2 kg
(preferably Red Delhi Carrots)
Milk -1 litre
Cardamom -4 to 5
Sugar -1/4 kg
Charmagz -1 tbsp
(dried melon seeds)
Ghee or cashew nuts -100 gms
Almonds -a few

Method:
Scrap carrots and grate them.Bring milk to a boil in a heavy bottomed pan.Add grated carrots.Cook on medium heat stirring occasionally without closing the lid till the mixture is fairly dry(Opp-30 to 40 mts).Add sugar, cardamom crushed and melon seeds,mix well till everything becomes semi solid dry. Then add ghee and fry well by adding the nuts cashew nuts and badam. Decorate with silver foil and serve after getting cold.



Rice Kheer :

Ingredients :
Rice - 1/2 cup
Milk - 6 cups
Sugar - 3/4 cup
Camphor - pinch
or nutmeg - pinch

Method:
Wash rice well, and cook it with milk till semi thick(stirring all the time so that the rice does not stick to the bottom of the vessel and the rice is well cooked. Reduce heat,add the sugar,little by little when sugar is well incorporated remove from fire. Fry in ghee the cashewnuts and raisins,till golden in colour.When cold add to kheer.Powder camphor or nutmeg and add that too.Serve hot or cold. You could add 1/4 cup of beaten cream when the kheer is cold.Instead of sugar you could heat 1-1/4 cup of palm jaggery(or ordinary jaggery) with a 1/4 cup of water-when jaggery completely dissolves-strain and when cold,add to the cold thickened kheer.Add powdered camphor or nutmeg.